Toronto District School Board
Type de poste : Permanent Ville : Toronto
Expérience requise : 6 mois à 1 an Statut : Temps plein
Description du poste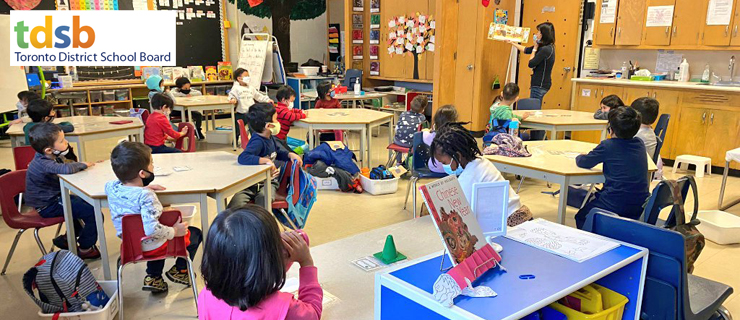 One of the most multcultural and multilingual schools boards in the world!
The Toronto District School Board (TDSB) is the largest and one of the most diverse school boards in Canada. We serve approximately 247,000 students in 583 schools throughout Toronto, and more than 130,000 life-long learners in our Adult and Continuing Education programs. With over 40% of our graduates ranking as Ontario Scholars, more than 80% of our graduates go on to university or college.
TDSB staff members are the backbone of the system. A talented community of educators and support staff are dedicated to enriching the lives of all students and helping them achieve success. The TDSB employs approximately 42,000 individuals who build a positive learning environment by supporting our Strategic Directions and Mission Statement. Our standards are high because our students are our number one priority.
Designated Early Childhood Educator – Full Day Kindergarten
If you are bilingual (French and English) and a registered Early Childhood Educator with childcare experience in an educational setting, this is a great opportunity to join the Toronto District School Board (TDSB) as part of the French Immersion/Extended French Program.
Reporting to the Principal, you will partner with the classroom teacher to plan and implement a full day French Immersion early learning program within both a classroom setting and as part of the extended day program, to provide supervision and age-appropriate programming for groups of students.
As a Designated Early Childhood Educator, you will collaborate in the design of programs and environments which will enhance children's cognitive, physical, social, and emotional development.
Primary Duties
More specifically, as a Designated Early Childhood Educator – Full Day Kindergarten, you will:
Partner with the Kindergarten teacher to implement and plan developmentally appropriate activities to build skills in French literacy and cognition through large and small group activities such as music, story-time, co-operative games, the arts, waterplay, sand play, drama, construction, science/inquiry, and indoor/outdoor play.

Work in collaboration with the Kindergarten teacher to implement the French Immersion curriculum and to address individual students' identified needs, stages of development and interests.

Provide positive social and emotional experiences to strengthen prosocial skills such as sharing, problem solving, and cooperation.

Plan programs and environments for play and activities to create opportunities for developmental progress.

Maintain a healthy emotional and social learning context for students.

Assist children in washroom routines, dressing and lunchtime activities.

Accompany children on field trips.

Work collaboratively as part of a team and with teachers and staff of the school to deliver a French Immersion Kindergarten/Extended Day program.

Report to parents and supervisors on children's developmental progress within healthy, safe, nurturing, and challenging play environments, before and after school.

Observe and assess children's progress and behaviour.

Provide supervision and age-appropriate programming for groups of students as part of the Extended Day program, as required, which includes:

Providing direction to assistant if present.

Ensuring a healthy and safe environment for students, with diverse activities to engage students and build on prosocial and language development.

Maintaining all appropriate records for students (e.g., attendance, health issues, etc.).

Setting up of classroom (e.g., display, upkeep, organization of materials, etc.).

Maintaining a hygienic/safe environment.

Attend staff meetings and professional development activities.

Perform other related duties, as assigned.
Qualifications
To take on the role of Designated Early Childhood Educator – Full Day Kindergarten, you must have:
A two-year community college Early Childhood Education Diploma with six months' childcare experience in an educational setting.

Registration with the College of Early Childhood Educators.

Oral and written French language proficiency.

Knowledge of the Ministry of Education full day learning program.

Knowledge of related legislation and working knowledge of TDSB-related policies and procedures.

Ability to communicate in a sensitive, courteous manner with children, parents, staff and the general public.

Proven ability to follow directions, policies, and procedures in an appropriate and timely manner.

Understanding of, and commitment to, confidentiality.

Proven ability to deal with difficult situations and to take appropriate action in stressful or emergency situations according to policies and procedures.

Experience planning and implementing age-appropriate programs.

Strong organization and time management skills and the ability to meet deadlines.
Special Requirements:
Current Standard First Aid and CPR B or C Certification, OR

Current Emergency First Aid and CPR B or C Certification; and

Ability to stand/walk for extended periods and move/carry equipment for program; and

Ability to physically assist children, as required (e.g., lifting).
Working conditions
Hours: 6 hours per day - scheduled according to operational needs
Examples of shift schedules (may vary based on school needs):
Core – 8:30 am to 3:30 pm; Late – 11:45 am to 6:15 pm; Early – 6:15 am to 1:30 pm
Work Year: School Year – September to June
Wage Range: $29.22 - $34.74 per hour
Locations: These CUPE Local 4400 positions are located at various schools within the TDSB. Refer to the following chart for a complete list of schools and posting numbers:
4047-LC4-EX Core Adam Beck Public School, 400 Scarborough Road
3102-LC3-EX Core Birch Cliff Public School, 1650 Kingston Road
4049-LC4-EX Early Blake Street Public School, 21 Boultbee Avenue
4050-LC4-EX Late Blake Street Public School, 21 Boultbee Avenue
4051-LC4-EX Early Bowmore Road Public School, 80 Bowmore Road
4052-LC4-EX Late Bowmore Road Public School, 80 Bowmore Road
1085-LC1-EX Early Broadacres Junior School, 45 Crendon Drive
1086-LC1-EX Late Broadacres Junior School, 45 Crendon Drive
2070-LC2-EX Core Broadlands Public School, 106 Broadlands Boulevard
1087-LC1-EX Core Brookhaven Public School, 70 Brookhaven Drive
1088-LC1-EX Core Brown Public School, 454 Avenue Road
4053-LC4-EX Core Carleton Village Sports & Wellness Academy, 315 Osler Street
4056-LC4-EX Core Earl Beatty Public School, 55 Woodington Avenue
4057-LC4-EX Core Earl Haig Public School, 15 Earl Haig Avenue
1092-LC1-EX Core Elmlea Junior School, 50 Hadrian Drive
1093-LC1-EX Core Fraser Mustard Early Learning Academy, 82 Thorncliffe Park Drive
3103-LC3-EX Core George B Little Public School, 125 Orton Park Road
4058-LC4-EX Core Gledhill Public School, 2 Gledhill Avenue
1094-LC1-EX Core Glen Park Public School, 101 Englemount Avenue
4059-LC4-EX Core Howard Public School, 30 Marmaduke Street
4060-LC4-EX Core Humbercrest Public School, 14 St Marks Road
1095-LC1-EX Core Humewood Community School, 15 Cherrywood Avenue
4061-LC4-EX Core Islington Junior Middle School, 44 Cordova Avenue
4062-LC4-EX Core Jackman Avenue Public School, 79 Jackman Avenue
4064-LC4-EX Core John English Junior Middle School, 95 Mimico Avenue
1106-LC1-EX Core John Fisher Public School, 40 Erskine Avenue
2072-LC2-EX Core Lester B Pearson Elementary School, 7 Snowcrest Avenue
4067-LC4-EX Core Lord Lansdowne Public School, 33 Robert Street
3106-LC3-EX Core Mason Road Public School, 78 Mason Road
1098-LC1-EX Core Melody Village Junior School, 520 Silverstone Drive
1099-LC1-EX Core Millwood Junior School, 222 Mill Road
4068-LC4-EX Core Morse Street Public School, 180 Carlaw Avenue
1101-LC1-EX Core Northlea Elementary and Middle School, 305 Rumsey Road
4071-LC4-EX Early O'Connor Public School, 1665 O'Connor Drive
4072-LC4-EX Late O'Connor Public School, 1665 O'Connor Drive
1102-LC1-EX Core Owen Public School, 111 Owen Boulevard
4073-LC4-EX Core Palmerston Avenue Public School, 734 Palmerston Avenue
4074-LC4-EX Core Parkdale Public School, 78 Seaforth Avenue
4078-LC4-EX Core R H McGregor Public School, 555 Mortimer Avenue
4079-LC4-EX Core Rawlinson Community School, 231 Glenholme Avenue
4080-LC4-EX Core Regal Road Public School, 95 Regal Road
2073-LC2-EX Core Rockford Public School, 60 Rockford Road
1103-LC1-EX Core Rosethorn Junior School, 2 Remington Drive
4081-LC4-EX Core Runnymede Public School, 357 Runnymede Road
4083-LC4-EX Core Sir Adam Beck Junior School, 544 Horner Avenue
3110-LC3-EX Core William G Miller Public School, 60 Bennett Road
4084-LC4-EX Core Williamson Road Public School, 24 Williamson Road
4085-LC4-EX Core Winchester Public School, 15 Prospect Street
2075-LC2-EX Core Yorkview Public School, 130 Yorkview Drive
Ensure you review the posting details and include all relevant documents in your submission, including:

Copies of valid First Aid & CPR Credentials, and

Proof of Registration with the College of Early Childhood Educators.

Quote posting number in the subject line:

If applying for more than one posting, you must submit a separate application for each.

Attach a detailed résumé and covering letter as one file in PDF format and submit to:

[email protected]

.

Deadline for submissions is NOON on May 13, 2022.
The Toronto District School Board adheres to equitable hiring, employment, and promotion practices.
We strive to meet the accommodation needs of persons with disabilities. Applicants are encouraged to make their needs for accommodation known in advance during the application process.
Only applicants selected for an interview will be contacted. We are unable to acknowledge or confirm receipt of applications.